In This Case: Alma Thomas, An Artist from Washington, DC
In This Case is a series of ongoing posts on art in the Luce Foundation Center, a visible art storage facility at the Smithsonian American Art Museum that displays more than 3,000 pieces in sixty-four secure glass cases. This piece was written by Luce Center work-study student, Deysy Alvarado-Bonilla.
Alma Thomas, a DC artist and influential painter, once said, "I've never bothered painting the ugly things in life…no. I wanted something beautiful you could sit down and look at." She dedicated her life to doing just that.
Thomas was born in Columbus, Georgia, on September 22, 1891. Her family relocated to Washington, DC in 1907, to seek a better public school system and escape racial barriers in the South. From a young age, Thomas loved the visual arts. As an educator, artist, and the first African American graduate of Howard University's fine arts program, Thomas dedicated her life to exploring the visual arts in the District and developing her own creativity.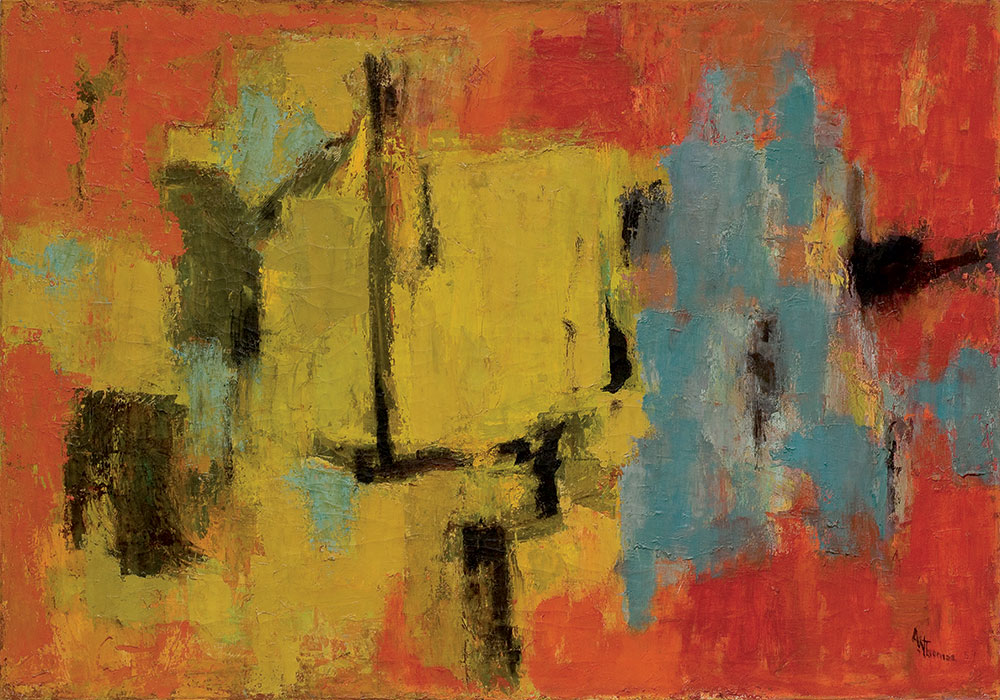 Alma Thomas taught visual arts at Shaw Junior High in the District for 36 years, while also working on her own paintings. When she retired at age 69, she devoted her life entirely to painting. At the beginning of her career, she made representational paintings inspired by French artist, Henri Matisse. During her time at Howard, she learned about Color Field painting, led by DC artists Gene Davis and Kenneth Noland. This style, emphasized flat color as opposed to the more gestural brushstrokes found in Abstract Expressionism. Peaking Thomas' interest, it catapulted her work in a new direction.
Today, Thomas is recognized for creating dynamic paintings of nature, and occasionally, historical events such as the moon landing. She gained attention for her unique process and abstract style, making her a "force of the Washington Color School." Her process began with covering a canvas with light washes of watercolor or acrylic paint. Then, she would cover the stained canvas with thick, repetitive brushstrokes of vibrant color. She derived her inspiration from the natural world around her, like rays of sun flickering through the leaves in her garden. Often, her pieces resemble intricate, colorful mosaics.
Red Abstraction, on view in case 43B in the Luce Center, is somewhat different than her other work. Instead of creating repetitive small strokes of watercolor or acrylic paint, she used broader strokes of thick oil paint on the entirety of the piece. Referencing the colors of fall leaves, she used deep warm tones of red, green and brown. She used paler tones in the background and then painted over the canvas with bold color similar to the technique used in her other work.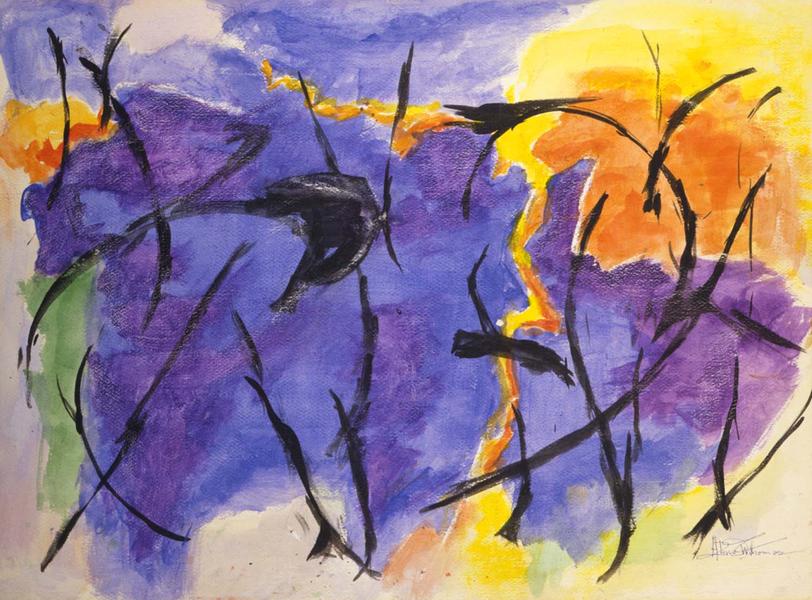 The viewer is drawn to the muted tones at the edges of the canvas. Thomas used color to create movement and expression within her artwork. Her innovation and technique made her a household name in the DC arts community.
As an African American woman artist, Thomas overcame many social barriers, and yet, when once asked if she considered herself a black artist she replied, "I am an American." She was a strong believer in "the infinite possibilities of human progress." At the age of 80, Thomas proved that prejudices against her age, race, and gender could not prevent her from pursuing her passion. She became the first African American woman to have a solo show at the Whitney Museum of American Art in New York in 1972, and the first African American woman to have her work included in the White House's permanent collection in 2009.